Many products of automated production lines require various types of conveyor belts.
Specific challenges
In various industrial fields, protecting the integrity of the product during the production process is a key criterion.
Transporting or transferring products over long distances, curves and inclines, or heavier loads may be issues for clients.
Beltal solutions
Great cut and tear resistance for increased durability
Better adhesion of cover types to facilitate transport on ascending and descending conveyors
Compliance with industry standards such as antistatic standards
Hidden mechanical fasteners to prevent damage to conveyed product
Reinforced cleats able to carry heavier loads or softer cleats to avoid damaging the product
Manufacturing of curved belts
Applications
Recycling: stamping, waste processing, elevators, sandblasting, magnetic separators
Packaging: line shafts, buildups, inclines, curves
Textile: dryers, printers, transfer, cutters, drive shafts, winders
Aggregates: screening, washers, slingshots, concrete conveying, hot-mix asphalt trailers
Wood processing: sawmills, metal detectors, waste processing, sanders, coaters, tenoners
Pulp, paper and paperboard: corrugators, stackers, transfer, folding, printing, packaging
Pharmaceuticals: sorting, inspection, bulk shipping, packaging
Parcel services: carriage of baggage, post offices, courier services
Advantages and benefits of Beltal's offer
Great peace of mind thanks to Beltal's extensive experience in the field
Simplified ordering given the broad range of products and applications available
Time and money savings since Beltal solutions make belts last longer
Increased productivity by reducing losses due to cuts on the belt or damaged products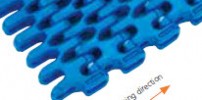 C R2.3, CR R1.6, L R2.3, W R2.3, WO R2.3, WT R2.3