Metal belts can be manufactured to meet operating requirements of straight, curved or spiral conveyor. Several combinations of mesh and mesh size can make these belts very open to let air or very closed for the product support. The various alloys can withstand temperatures up to 2200 °F (1200 °C) for a success of specific applications. Typical alloys include steel, galvanized steel, stainless steel, inconel and carbon.
Flat Wire
Flat Wire is a versatile belt for right use exploited for many applications requiring high ventilation. It is a strong and economic belt used in the fields of agriculture, forestry and industrial applications.
Omni-Flex
Built like Flat Wire, Omni-Flex is made with notched mesh to allow it to rotate in curves or spirals.
Balance Weave
Balance Weave is the industry standard for many applications. Rods of variable diameters are formed spirally in one another that can provide the desired opening as the transported product. These belts are driven by frictional contact with a pulley.
Cleatrac
This belt is shaped to permit the positive drive using gears. It is also a very good belt for use on transfers systems with fine nose as small as ¼ ". The Cleatrac is also equipped with the same spiral rods than the Balance Weave to offer the same opening option.
PDCE
This configuration includes roller chains on each side of the belt and transverse rods to support different screens. PDCE ​​belt is often used for food applications, cooking or freezing, requiring a good product support while allowing air or liquid through the belt.
Omni-Grid
The Omni-Grid is constructed from cross rods with a retractable mesh on each side allowing it to run in a straight line, in a curved or spiral. This belt can be combined with various screens for product support or with a plastic cover to increase the release of the product.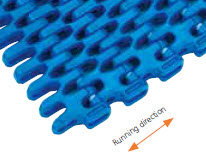 C R2.3, CR R1.6, L R2.3, W R2.3, WO R2.3, WT R2.3